ISML 2009 Elimination Period - Featured Matches and Maps
---
The new bearer of the Heavenly Tiara has been revealed...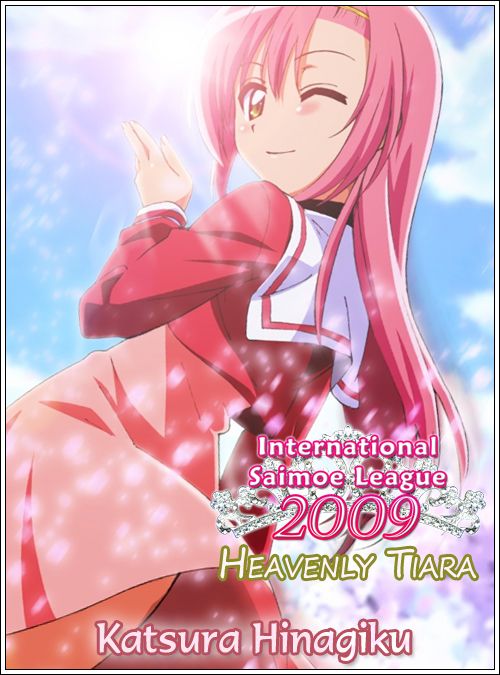 ---
Elimination - Round 1
Point Alpha - 0.35 Light Years from Earth

#1 Shana vs. #16 Holo

1981 ← 1932




"Somehow... I feel vulnerable here."


Believe me, either one of them has every right to feel vulnerable here. Despite what the regular season records say, not to mention the seemingly obvious implication that a #1 always has the advantage against the #16 seed, Shana does not have this match in the bag. Out of all the #16 seeds that can possibly scrape her way into the tourney, Holo is one of the few candidates out there that have defeated Shana in the past. In Korea 2008, Holo defeated Shana 4507-4147 in the semifinal en route to winning the Korea Best Moe championship, a match considered to be perhaps one of the greatest upsets in Saimoe circuit history, and although Shana defeated Holo twice in ISML, it could not compare to the intensity that this match brings, especially with the heavenly tiara at stake. Despite this, Shana has been on a tear in ISML as of late, with her previous loss dating back to a staggering five months ago, which leaves the rest of the candidates hoping that she goes out of the tourney as early as possible. In other words, the flame haze is the first target, but will our favorite werewolf pull off the upset again?

Point Beta - 0.70 Light Years from Earth

#15 Shinku vs. #2 Suzumiya Haruhi

1887 → 2125




"I have to survive. Losing it all... it's too painful to think about it."


Hopefully, Haruhi has gotten over the pains of losing the opportunity to pull off an undefeated season, because now is not the time to be thinking about losing. Making the postseason is what the regular season is all about, and working extra hard to acheive a higher seed and possibly a better chance of winning out is a deserving bonus, especially when the tiara is so heavily desired by many. After all, Haruhi's first opponent in the judgment round came back from a dismal (17-45-1) 2008 season to barely make the cut for a probable once-in-a-lifetime opportunity. So far, Shinku has impressed many by recording one of the most unbelievable comebacks in ISML history, and chances are she may not be done yet. At this point, she might even be the favorite to win this match. Shinku outlasted Haruhi by only 90 in Diamond 7, and with Haruhi continuing to slip as Shinku peaks, this match may even be more lopsided. Can Haruhi turn her luck around or will we actually see a #15 seed in the winner's bracket?

Point Gamma - 1.05 Light Years from Earth

#3 Sakagami Tomoyo vs. #14 Takamachi Nanoha

2095 ← 1640




"How long has it been since I've last seen my family?"


Ironically, the winner of this match will face the winner of the other school president vs. mahou shoujo match this Thursday, but even if the other match is uncertain, this match may be even more certain than others. While Sakagami Tomoyo ranks third per votes received and second in least votes received against throughout the regular season, as expected for a #3 seed, Takamachi Nanoha ranks twenty-fifth in votes received and twenty-second in least votes against. In fact, there are five candidates who have ranked ahead of Nanoha in both of these categories that are completely blocked out from the postseason. Conspiracy perhaps? One can argue that Nanoha did not need to go on the offensive to win these matches, but given that Tomoyo's consistency in both offense and defense rivals that of Shana, it may take much more of an effort for Nanoha to be able to join her best friend as the only two tiara-bearers of ISML at least for a year. Can Raising Heart find the glory of her 2005 years and win, or will the presider of the sakura trees move on toward her next challenge?

Point Delta - 1.40 Light Years from Earth

#13 Suiseiseki vs. #4 Fujibayashi Kyō

1983 → 2003




"Am I doing this for my other half... or my own?"


Fujibayashi Kyō was fortunate that she had never heard of anything "Saimoe" at the time the Jade Stern dominated the reigns of Japan and Korea. She was fortunate that by the time she got involved in ISML en route to a post season appearance, the "desu queen" was merely one of the pack. Well, Kyō is fortunate no more, because Suiseiseki is back, and she may be even better than ever. With a full streak of victories throughout the latter half of the regular season, including a dominating Emerald performance, it seems that Suiseiseki is ready to win a contest she has never won before. Sure, it took some time to get used to a round-robin league format after being trained in the style of single-elimination, but it looks like the time for rebirth is nigh for the legend. Don't count out the Saimoe sophomore though. Not only can Kyō throw a book with a high rate of velocity, but she can win, and despite not winning a necklace to add to her '08 Sapphire, she has been winning. It's a clash of older twin sisters in the middle of space, but who will pull out a crucial first round victory in the middle of nowhere?

Point Epsilon - 1.75 Light Years from Earth

#5 Suigintou vs. #12 Asahina Mikuru

2265 ← 1789




"If only I could change the past..."


The good news: The only SOS Brigade member left out of the double-elimination ritual last year finally made it in this year. The bad news: she's up against one of the three candidates many have picked to win this tourney. With the storied Amethyst spark that sparked Suigintou from low-tier top 16 candidate to one of the most feared candidates in the league, Asahina Mikuru may be in for a world of hurt despite doing exceptionally well throughout the regular season. Or it may be all for naught. Both candidates here like to go on the offense, as both candidates rank in the top 6 as the only candidates to hit the 100,000 votes attained mark for the regular season. While this may insinuate an even pairing, Suigintou has been on a hot streak as of late, and chances are she will be looking forward to not only a win over Mikuru but also a win over the Kyō/Suiseiseki winner as well. But Mikuru can't hand this match over, as Suzumiya Haruhi and Nagato Yuki are going to be looking on as well, and she is in no position to be left behind. Can this time-traveler upthrone one of the favorites to win the double-elim, or will the Mercury Lampe take her hot streak and "A" game into the winner's second round?

Point Zeta - 2.10 Light Years from Earth

#11 Katsura Hinagiku vs. #6 Fate Testarossa

1949 ← 1768




"Would I still be here if my mother loved me?"


Here's the thing with these two: win or lose, both have a 50-50 chance of facing one of their friends in the next round. That's also a 25% chance of having to eliminate one of your friends from the tourney. So number one, both are hoping they don't have to do that. B, both have to defeat the other so that they don't have to face the pains of eliminating a friend. Ignoring the intangibles for the moment, this match looks to favor Katsura Hinagiku slightly, as not only has she had better overall statistics than Fate, but she also has the on-air advantage. On the other hand, Hinagiku has a fear of heights, meaning 2 light-years away from Earth could be more than too much for her. That being said, while Hinagiku has been hanging with Sakagami Tomoyo for quite some time now, that's nothing compared to what we know of the relationship between Takamachi Nanoha and Fate Testarossa, and neither want to see the other in an elimination round, meaning this match is a must win situation at all costs. It is possible we could see either scenario in the next few rounds, but right now, what matters is this match here. Can Hinagiku get used to space travel and pull of a victory or will Fate take one step closer toward defending her title?

Point Eta - 2.45 Light Years from Earth

#7 Nagato Yuki vs. #10 Aisaka Taiga

2053 ← 1814




"Is this really the power of the heavenly tiara?"


Aisaka Taiga might be getting used to this. She's successfully backed up her place in ISML's DE by making the top 16 in Saimoe Japan and top 8 in Korea Best Moe, both contests still going. While those results may be her only attempt at Japan and Korea in her career, if she keeps this performance up, she will be a developing force to beat in the long run. Tonight, however, she runs into a KyoAni powerhouse in Nagato Yuki, who has seen her share of success in Saimoe's past despite never claiming a championship victory. If Taiga has brushed up on her history in the past month off, she knows that Yuki has finished 2nd in this very tournament last year, and while her stock may be slipping, she knows how to at least get to the final round of this tourney. This could be where the newcomer gets into trouble, as last year's runner-up will accept nothing short of a championship win. Can Yuki begin the road to redemption with a win today, or wil Taiga start her own success chapters in Saimoe history?

Point Theta - 2.80 Light Years from Earth

#9 Hiiragi Kagami vs. #8 Tōsaka Rin

1772 → 1989




"Everyone has a motive for being chosen... so why don't I?"


It's been a while since Fate/Stay Night came anywhere near a top 16 appearance of any kind. It's been so long that no one probably remembers anyone from that series other than Saber or Tōsaka Rin, so it's rather surprising that after just a top 24 finish last year, Rin emerged as one of the candidates to beat in double-elimination, or better yet, just squeaked into the top half. However, she now faces a tough challenge in the latest of the Saimoe Japan coronations, Hiiragi Kagami, whom has slipped out of the top-tier category and into a quiet #9 seed. Despite this, the two-time necklace winner is the only Lucky Star candidate left in this tourney, and if her survival in Korea Best Moe is any indication, it's an indication that she's still going to battle for the crown, and after her loss to Fate out in the Winner's bracket last year, it will be to no surprise that winning the championship will be the only route to satisfaction. Can Kagami's experience hold out in this match or will Rin emerge as the victor in her first stint in double-elimination?


Thanks to minhtam1638 for providing this round's match descriptions.
---
Elimination - Round 2
Point Iota - 3.15 Light Years from Earth

#1 Shana vs. #8 Tōsaka Rin

1524 ← 1108




"Even so... I still have the right to know."


Tōsaka Rin has to be happy with her postseason debut. Coming off an impressive performance with a win over two-time neckalce winner Hiiragi Kagami, Rin will be heading into this crucial match against Shana with full confidence. That's probably good news for most everybody except Shana, who barely scraped away from being marked by a #16 over #1 upset with a 49-point win over Holo. This match is regarded by some as the most important match of the season, as it will determine whether anybody could actually have a chance to win with the heavy favorite eliminated early, or whether the flame haze's immense ability to contain large amounts of existence would just be too much for everyone else to bear. However, many seem to forget that Rin is one of only six candidates to eclipse the 100,000 vote mark in the regular season, and it seems not only possible but likely that we could see Rin heading into the quarter-finals. Are we going to see the pre-postseason favorite fall today or will Rin not be the right candidate for the job?

Point Kappa - 3.50 Light Years from Earth

#7 Nagato Yuki vs. #2 Suzumiya Haruhi

1429 ← 1119




"Please don't stand in my way... not here."


Endless eight. At least that is what the series of matches between Suzumiya Haruhi and Nagato Yuki has been. This is the eighth time that the two most prominent faces of the SOS-Brigade have met in the biggest stages in the Saimoe circuit, a meeting that could possibly eclipse Shana vs. Suiseiseki as the greatest rivalry in Saimoe history, and just when you think the series is all tied up with Haruhi's victory over Yuki in Diamond 9, Yuki strikes back by eliminating Haruhi from this year's Korea Best Moe tournament, bringing the Haruhi/Yuki series to (4-3) all time in Yuki's favor. Last year, it was actually Yuki who defeated Haruhi in this exact position in double-elimination, sending Haruhi to two and out while Yuki finished second. For Haruhi to not experience deja vu again, she has to mix up her game and keep the humanoid lifeform confused in order to win and stay in the winner's bracket. Can Haruhi tie the series at (4-4) and settle it next year or will Yuki settle this rivalry once and for all?

Point Lambda - 3.85 Light Years from Earth

#3 Sakagami Tomoyo vs. #11 Katsura Hinagiku

1255 → 1360




"I promised. You still don't believe me?"


Friend or foe? That's what Katsura Hinagiku will decide when she faces Sakagami Tomoyo today. It was last year that Tomoyo defeated Hinagiku 664-593 to relegate Hinagiku to 11th place, her lowest finish since her surprising second-round outing in Saimoe Japan 2007. This year, it seems Hinagiku is ready to strike back. Looking for her second championship and winning the Ruby Necklace along the way to today, Hinagiku is the only sub-#9 seed left in the winner's bracket, pulling a rather decisive victory over defending champion Fate Testarossa, and is looking to pull off a double by defeating the most consistent candidate in ISML. However, Sakagami Tomoyo has won a necklace of her own this year, and after being already knocked out in both Japan and Korea this year, this is her last chance to attain higher than a career-best 7th place, and there is no better way than to skip a handful of loser's bracket matches. It's a battle between fire and water, but can Hinagiku pull off her second win against Tomoyo in the row, or will she be sent to the loser's bracket again?

Point Delta - 4.20 Light Years from Earth

#5 Suigintou vs. #4 Fujibayashi Kyō

1026 → 1550




"Only then will he notice me for who I am."


Fujibayashi Kyō already has two wins over Suigintou, her lastest being this year in Aquamarine 3. However, that was before Suigintou showed her true self sometime in between Topaz and Amethyst, and her latest barrage of wins that includes her Amethyst victory this year is just the latest of new accomplishments for the new look Rozen Maiden. Sure, she has had top 16 finishes throughout her career, but she hasn't cracked top 8 until her complete victory in Korea Super Best Moe '06-'08. That being said, she still has yet to win a championship in the "Big Three", but her latest performances seem to indicate that she is just behind Shana as the favorite to win this tourney. Don't count out Kyō just yet though: she's earned herself a top #4 seed in regular season despite a rather quiet necklace campaign, and she has already shown herself to be capable of pulling victories over powerful opponents. This match is a toss up, but just who will come out on top here?


Thanks to minhtam1638 for providing this round's match descriptions.
---
Elimination - Round 3
Point Nu - 4.20 light years to Sirius

#16 Holo vs. #9 Hiiragi Kagami

1317 → 1659




"I did not come this far to let everything go."


It's elimination time, and the losers of this round get sent back to reality and into a 13th place regulation tournament none want to be a part of. In the last round, Holo surprised very many by coming within almost a hairline to pulling off what could be the greatest upset in double-elimination history. Her 1932-1981 loss to #1 seed Shana may have sent her only one step closer to elimination, but it also certainly elevated her to favorite status in this match. However, also on the verge of elimination is two-time necklace winner Hiiragi Kagami, whom has struck out this year in undefeated necklace periods. Last year, Kagami may have flown through the winner's bracket, but she became the victim of a two and out to elimination after falling to both eventual winner Fate Testarossa and eventual runner-up Nagato Yuki. Her down year this year coupled with Holo's true nature could lead to an unfortunate repeat, and Kagami certainly does not want to lose 4 career double-elimination matches in a row. It's a battle between the 2008 Saimoe Japan champion and the 2008 Korea Best Moe champion; one will move on to face Suzumiya Haruhi, and one is going to be relegated to the 13th place tourney. Which one of them will that be?

Point Xi - 3.85 light years to Sirius

#10 Aisaka Taiga vs. #15 Shinku

1952 ← 1009




"I don't know what this is, but I won't run away from it."


This could be a bad time for Shinku to run into the hottest Saimoe candidate of 2009. With Suigintou's quick exit against Fujibayashi Kyou last Friday in the winner's bracket, Shinku is worried, but rather for her sisters, she should be worried about herself, because despite winning the Diamond Necklace this year, she may be the first necklace winner out in double-elimination if she doesn't find a way to get past Aisaka Taiga here. Taiga is on a steamroll to success, notching wins in both Japan and Korea against new prospect Nakano Azusa to reach both the round of eight and - get this - the championship match in their respective contests. Actually, this might work against her - the thought of winning Japan, Korea, and International in the same year is unfathomable, despite that Japan and Korea have already been dual-won by Suiseiseki in 2006, two years before ISML's inception. If Shinku is watching out for her sister's legacy, she's going to have to pull as fast one in this match. The winner faces Tosaka Rin on Thursday, while the loser is all to be forgotten. Can the Reiner Rubin score an upset over the Palm-top Tiger, or are we one step closer to a legend being born in the process?

Point Omicron - 3.50 light years to Sirius

#14 Takamachi Nanoha vs. #6 Fate Testarossa

851 → 1757




"Those lonely eyes of yours... and yet you still haven't called my name."


Fate Testarossa and Takamachi Nanoha have never been in this position before. Sure, they've participated in Saimoe contests, won championships, sometimes discussing strategies in the background, and they have even fought each other both on the Saimoe field and off of it. Yet, in the five years that they have been around, this is the first time both of the will face each other in any elimination round in the complete Saimoe circuit. It's a sad day for Mahou Shoujo Lyrical Nanoha fans worldwide as they're going to have to pick between probably their two most favorite characters. Fate seems to be the overwhelming favorite here, as Nanoha has never defeated Fate head-to-head in the Saimoe circuit, and with the winner facing Suigintou, it sure would be nice for Fate to try to settle a long-time rivalry with her. To make matters worse for Nanoha, usually candidates in this position would have an advantage over those with already secured championships, but Nanoha has one. For Nanoha to win against the defending ISML champion, she will have to do something we have never seen from her before, throwing statisical probabilities into the vast empty space and try to finally get her first double-elimination win. Will Nanoha even have the heart to do it, or should get ready to see a classic Suigintou/Fate this upcoming week?

Point Pi - 3.15 light years to Sirius

#13 Asahina Mikuru vs. #12 Suiseiseki

1713 ← 1280




"For the sake of those who trust in me, I cannot let them down."


This match is completely up for grabs. Two first-time candidates to double-elimination will battle it out in one of our more intense matches to date. On the one hand, Asahina Mikuru, a virtual unknown in Saimoe compared to fellow SOS Brigade-women Suzumiya Haruhi and Nagato Yuki, finally has a chance to make a name for herself by going right past the top 12 borderline if she wins this match today. On the other hand, Suiseiseki is trying to return to her '06 glory, and looks to become the first candidate ever to win championships in all three major Saimoe tournaments. In this otherwise typical #12/#13 matchup, both candidates took different routes to get here. While Asahina Mikuru methodically worked her way though here, scoring a perfect Diamond campaign as well as two (8-1) periods, Suiseiseki peaked midway through the season, clinching the Emerald Necklace before simmmering down to a the #12 seed. With the next meeting with Sakagami Tomoyo on the line amidst the brink of elimination, will it be the legendary Jade Stern that takes the win, or will it be the longtime time-traveler?

---

Madrid, Spain

Senjōgahara Hitagi vs. Akiyama Mio

1105 → 1812
A fearsome goddess and a fearful girl—these two captivated the otaku world during the spring and summer of 2009. No other character has seen such a speedy ascension into fame and burst of creative outputs like Akiyama Mio, yet the one who quietened this fan storm is Senjōgahara Hitagi. This match, a match that is unlikely to happen in next year's moe tournaments due to the passage of time, would pit the character who is the center of attention today against the character who was the center of attention last season. This match comes at a fortunate time when these girls are still at the height of their moe power. Let's hope we can decide who is the true queen of staplers.
Thanks to minhtam1638 and maglor for providing this round's match descriptions.
---
Elimination - Round 4
Point Rho - 2.80 Light Years to Sirius

#3 Sakagami Tomoyo vs. #12 Asahina Mikuru

1792 ← 1192




"Memories are not meant to be rewritten."


Uh-oh. Last year, a #3 seed fell in this round. This year, Sakagami Tomoyo's the #3 seed, and although it seems she may be the favorite over Asahina Mikuru, it isn't that simple. Tomoyo is the hidden darkhorse that could win the tiara. She is known as one of the most consistent if not the most consistent candidates in the ISML. She's the only candidate this season to defeat #1 seed Shana in the regular season, taking the Aquamarine necklace along the way, and she put a stop to Suzumiya Haruhi's undefeated hopes in the Emerald finale. However, she might be fizzling a bit - her 7-2 Diamond run, albeit impressive, is the worst of her career, and she followed that slump with a loss to Katsura Hinagiku. While Asahina Mikuru has not been quite impressive, she has followed her perfect Diamond run by eliminating Emerald winner Suiseiseki, and it looks like she's not done. On top of that, Suzumiya Haruhi is also in this round, and Haruhi has one eye on Mikuru for the moment, making sure Mikuru doesn't lose. Who are we going to lose first - another necklace winner or the first SOS-Brigade member?

Point Sigma - 2.45 Light Years to Sirius

#6 Fate Testarossa vs. #5 Suigintou

1722 ← 1133




"I'm not letting you pass. Not this time."


This rivalry is a classic. The Rozen Maiden vs. Mahou Shoujo rivalry that has existed since 2005 is adding one critical chapter to this already epic series, one involving perhaps the best performers on each side in one more elimination match. In 2007, Suigintou knocked Fate Testarossa out of Saimoe Japan in the second round, causing many to riot and fall into despair. Fate got her payback, however, eliminating Suigintou in the 2007 Korea Best Moe Round of 16. After two years, two championships, and a pair of matches with another win on both sides, the Fate/Suigintou series is now a career (2-2) with elimination on the line. One year removed from winning ISML 2008, Fate was the first top 8 seed ever to be upset in a Judgment round. About ten months removed from taking down Korea Super Best Moe '06-'08, Suigintou got herself into trouble considerably losing in the second round by a margin no one expected. With only one moving on to the next level, it's time to settle this rivalry once and for all. Which side is going to win this time - the dolls or the magical girls?

Point Tau - 2.10 Light Years to Sirius

#8 Tousaka Rin vs. #10 Aisaka Taiga

1378 → 1517




"Let me show you how far I've come."


With Korea already in the championship phase and Japan already at top 8, Aisaka Taiga is currently the only candidate still alive in all three major Saimoe tournaments. Already, there has been some talk that she could rival or even surpass some of Suiseiseki's major accomplishments in 2006, and if she ends up winning all three tournaments in one year - well, let's not go there yet, because we're backtracking. In the season opener of ISML - her first head-to-head match in her career - Taiga defeated veteran Tousaka Rin 1020-915. Since then, Rin has been taking the information she's learned over the past two years to storm her way into a top 8 seed, accumulating over 100,000 votes along the way, and although she couldn't get past #1 seed Shana in the winner's bracket, she's devised a special strategy for this match, and she's hoping it works. It's Aquamarine 1 all over again, except this time, instead of feeling out the opponent or the arena, it's an all out assault. Can Rin use her experience to grab a victory, or will the rookie continue to win like a future champion?

Point Upsilon - 1.75 Light Years to Sirius

#9 Hiiragi Kagami vs. #2 Suzumiya Haruhi

1524 ← 1387




"Something tells me your time here is running out."


Looks like Shana is missing a party. The only other two multiple-necklace winners in ISML to date faces off tonight, and one, dare I say it, is guaranteed to finish 9th or lower. Given their dominance in this tournament in 2008, it's unfathomable to think that either of them could be sitting in this situation today. Then again, Suzumiya Haruhi sat in this position before, and it's a moment she would rather forget. A chaotic 677-676 loss to Lucky Star's Izumi Konata eliminated Haruhi from contention, leaving many including herself to wonder what if. Tonight, she's facing Konata's best friend Hiiragi Kagami in this spot, and if Konata wasn't bad enough, Kagami has accomplished much more. The 2008 Saimoe Japan champion is en route to perhaps a second major win if she gets past Aisaka Taiga in the Korea Championships, and she still has the possibility of grabbing a third major by the end of this year. Sure, she has yet to beat Haruhi in her career, but with Haruhi in a notable slump since the Emerald finale, Kagami might even be the favorite to win this match. One high-profile candidate will fall tonight, but which two of last year's necklaces will we be losing?

---

Madrid, Spain

Alice vs. Hoshina Utau

1107 → 1221
Among those that break the gender barrier in appeal, these two may be the most well known among candidates not guaranteed a spot in ISML 2010, but their ability to gain over 40% of both the male and female vote in other matches make them a dark horse to be reckoned with. Alice and Utau have many similarities: youth, a sharp and slender beauty, obstinate personalities, and a transformation into a devilish figure (though the type may be different). While on the outside they may frown with contempt, on the inside they possess a softness that comforts many. Alice battles with weaponry while Utau battles with her voice, and while they both are independent types, they can also be excellent partners in a pinch. As the first season of Pandora Hearts and the second season of Shugo Chara! ended last month, both girls should be at a respectable height of power. While Utau has the potential to earn more fame as the third season airs, Alice will not so easily back down. May both girls receive plenty of love from the voters.
Thanks to minhtam1638 and maglor for providing this round's match descriptions.
---
Elimination - Round 5
Point Phi - 1.40 Light Years to Sirius

#1 Shana vs. #4 Fujibayashi Kyō

1549 ← 1386




"Everything is slipping out of control for me..."


Well, this is certainly interesting. Fujibayashi Kyou almost single-handedly shut down the pre-postseason Rozen Maiden hype by defeating two of them to get to the semi-finals. So far, she's done a great job avoiding a technical upset from either Rozen Maiden to keep herself away from the loser's bracket. However, while she's guaranteed herself at least a top 6, she may have run into a roadblock. Shana is poised for a winner's bracket final, as the heavily favored #1 seed has had the advantage over Kyou (3-0) in her career. Last year, Shana was in Kyou's position in this part of the tournament, where she lost out to eventual winner Fate Testarossa. This year, some fear she may be stronger than her recent years in the Saimoe circuit, and this is bad news for mostly everyone on the field. Kyou still has a good chance to win this match, but she might need a handful of pointers from one same-series ally that she doesn't exactly see eye-to-eye. Can a slaughter of books actually beat a fiery sword, or will they burn as ashes into the empty space?

Point Chi - 1.05 Light Years to Sirius

#11 Katsura Hinagiku vs. #7 Nagato Yuki

1615 ← 1291




"Am I really incapable of doing this?"


Suzumiya Haruhi and Asahina Mikuru struck out on Friday, so now it is up to Nagato Yuki to bring home the tiara for the SOS Brigade. She is currently walking almost exactly the same path she has before, consistently flying through the winner's bracket up to this point in the postseason. However, she lost at this point last year, and although she eventually finished runner-up, she would rather have the Winner's Bracket advantage of less matches and more lives in the final round. this time, she may be up for a challenge. The second season of Hayate no Gotoku! just recently ended, and reviews have been kind of mixed. However, with half of the season's focus mostly on Katsura Hinagiku, there may be no telling of who is the true favorite for this match today. In Emerald 9, Yuki did defeat Hinagiku, but with a score of 1436-1426, it could have gone either way, and it probably will tonight. Could a kendo sword topple - well, anything - a humanoid lifeform can thow at it?

---

Madrid, Spain

Ayanami Rei vs. Miyanaga Saki

1528 ← 1118
Today's matchup features two girls whose Saimoe influences are rapidly rising and could have great success in 2010 tournaments. The recent and successful Evangelion movie provides a very good impression of Ayanami that perhaps rekindled her flames in viewers both new and old. The only reason it didn't result in more J-Saimoe and K-Best-Moe victories this year is that the DVD release and Korean premiere did not come soon enough. The strength of the Saki series is still unproven as Saki performed very poorly in K-Best-Moe, but her classmates are still strong in J-Saimoe, and the group as a whole may be long remembered for making the Japanese version of mahjong internationally popular. Both Rei and Saki are socially reclusive yet can dominate a scene without saying a word. Both are slim and frail-looking, but they easily make up the difference with their mental resolves. To the fans, Ayanami Rei can be labelled "cool dere" while Saki has been notoriously known to "not wear any." Predicting the winner of this match will be difficult, as while those who don't know about Saki may very likely vote for Rei, the Saki TV series has experienced a much greater exposure in the market than the Evangelion movie. Plug in your suits and let the tiles fall as they may.
Thanks to minhtam1638 and maglor for providing this round's match descriptions.
---
Elimination - Round 6
Point Psi - 0.70 Light Years to Sirius

#9 Hiiragi Kagami vs. #3 Sakagami Tomoyo

1481 → 1750




"All of a sudden, everything is happening at once."


Compared to the upcoming duel in the final winner's bracket match, Hiiragi Kagami vs. Sakagami Tomoyo is more of a mini-rivalry. In 2008, Kagami defeated Tomoyo twice - one in a regular season match, the other in the quarterfinals of Saimoe Japan on route to winning the Japan championship. However, the only time Tomoyo defeated Kagammi was a brutal one; a 500 point deficit in the Amethyst finale thwarted any chance for Kagami, whom was then first place in the Amethyst standings, to defend her own necklace. Now, with three necklaces and over 220 wins between them, these two will go head to head in the same scenario they've experienced in Saimoe. Here, Tomoyo may have somewhat of an intangible advantage, and with her impressive offensive and defensive skills in the top 3 of the ISML roster, she could be considered the favorite, but Kagami has statistically done better in elimination matches, backing up her 2008 Japan run with a runner-up finish in '09 Korea, and having already eliminated #2 seed Suzumiya Haruhi. This is going to come down to the wire, and one of them is going to move on to face Fujibayashi Kyou in what looks to be an emotional battle either way. Can Tomoyo move forward from the round she was eliminated in last year or will Kagami continue her run and make the top four again?

Point Omega - 0.35 Light Years to Sirius

#6 Fate Testarossa vs. #10 Aisaka Taiga

1662 ← 1600




"I'm not afraid to walk forward alone, but I wish I didn't have to..."


It's the final match before the candidates actually reach the star of Sirius, and there is no better place to do battle for the tiara than the place it resides itself. However, with tonight's match an elimination, someone will return to reality without even seeing the star up close. Tonight's winner will earn a match against Nagato Yuki, an opponent both of tonight's participants have had some relative history. Aisaka Taiga may have defeated the SOS-Brigade's team leader before, but the newly crowned '09 Korea champion has yet to win against Yuki in two tries, including a first-round loss that sent her to the losing bracket to begin with. On the other end of the spectrum, Fate took out Yuki last year to win the ISML championship, but despite proving she has an advantage over Yuki with a regular season win, the first tiara-bearer in history has to feel nervous being on the loser's bracket for the first time in her career. This matchup in particular, however, could go either way, and there isn't enough on the table to conceive a truly clear winner. Can Taiga continue her run toward an unprecedented three championships or will Fate continue in her quest to defend her ISML championship?

---

Madrid, Spain

Riza Hawkeye vs. Beatrice

1334 → 1350
Today's matchup again pits a current and a classic series against each other. Fullmetal Alchemist has reached international mainstream levels of fame over its 8-year existence in anime and manga. Umineko no Naku Koro ni is only two years old (7 years if Higurashi is included) so far but draws its fame from the gaming side of Japanese fandom. In the world of Saimoe, whether games or anime generate greater importance, fame, or fervor is something difficult to conclude; however, this match can serve as another data point. Both Riza and Beatrice are capable of being calculating, cold-blooded killers, but their motives can't be more different. Riza will show kindness and consideration when the situation calls for it, but Beatrice's kindness only comes when it leads to further suffering (for her own amusemment). Predicting the female vote will be interesting again; while many can approve of Riza's competency in the face of men, Beatrice also consistently proves her dominance in the face of the aristocratic Ushiromiyas. Hopefully the result of this match can shed light on many unanswered questions about the two.
Thanks to minhtam1638 and maglor for providing this round's match descriptions.
---
Elimination - Round 7
Star of Sirius - 5000 miles from the North Magnetic Pole

#3 Sakagami Tomoyo vs. #4 Fujibayashi Kyō

1499 ← 1479
"Even when he is with her, does he still care about me?"
This inter-series rivalry isn't exactly as much of a classic as Suzumiya Haruhi/Nagato Yuki, but Sakagami Tomoyo vs. Fujibayashi Kyou has all the potential to become as such, given that it withstands the test of time. This rivalry actually started even before they have heard of Saimoe, when they attended the same school and fell in love with a third-year high school student. Although we can't tell you who that student ended up with (watch the
CLANNAD
series if you don't know), we can tell you both of them lost out in the same episode. Since then, the rivalry transferred over to ISML, where so far, it has been an even (1-1), with a 60-point Tomoyo win in Ruby 6 in 2008 and a dominating performance by Kyou in the 2009 season finale. For the first time ever, this rivalry hits an elimination match, where the loser will finally lose out on the right to bear the Heavenly Tiara of Sirius, and both of them will be going all out as if there is no tomorrow. Someone will take the lead in this series, but which one of them will it be?
Star of Sirius - 5000 miles from the South Magnetic Pole

#7 Nagato Yuki vs. #6 Fate Testarossa

1687 ← 1536
"Am I doing this because I have to, or is it because I want to?"
If you think this match looks familiar, you're right. It's a rematch from the ISML 2008 championship match, and hopefully everyone knows who won this match last year. That match was also the first time a candidate eclipsed 1000 votes in the history of ISML, but that was then, and a match to avoid elimination within the top six is now. Last year, Nagato Yuki came from the loser's bracket to attempt a double-win over Fate Testarossa twice, but Yuki lost out on the first match to give Fate the championship. This time, Yuki will only need to eliminate Fate once to eliminate the defending champion from the competition, and she has shown the strength throughout the year to do so, but Fate is not letting a rare chance at history slip away, and she is handling the oncoming pressure of the losing bracket very well. Can Fate pull off a second win over a stronger Yuki than last year, or will we officially see a new champion this year?
---

Madrid, Spain

Canaan vs. Sango

1433 ← 1060
Thanks to international licensing and many commerical translations, InuYasha is one of the most well-known anime series in the world, but the lapse of time many have dimmed its chance in the saimoe world despite its recent revival. Canaan was one of the more talked-about series over the last quarter with its titular heroine being the latest of widely popular Type Moon's franchise characters. Today's matchup features two characters who lack known last names and who can silence you from a distance before you even get the chance to ask. Away from battle, though, they can act very differently, with Sango being more of a proper, classical Japanese lady (sometimes called the "Yamato Nadeshiko type") and Canaan being socially naive and displaying a bit of extremism and obsession when it comes to personal relationships and belongings. Both girls have someone they love, and both have complicated pasts that continually haunt them. Let us see today who can successfully exorcise her demons and achieve salvation first with the help of our voters.
Thanks to minhtam1638 and maglor for providing this round's match descriptions.
---
---
Elimination - Round 9
Surface of the Star of the Sirius

#3 Sakagami Tomoyo vs. #7 Nagato Yuki

1156 ← 1034





With Fate Testarossa's elimination last Monday, not only will we have a new champion this year, but this years' double-elimination tourney is now down to a studio war between Kyoto Animation and J.C. Staff. But with one KyoAni candidate going out in fourth place today, not to mention two of J.C. Staff's most loved girls waiting in front of the core, the war could very well be one sided. Tonight, two canidates from KyoAni's most successful franchises will do battle to decide who will be the final candidate to stand down the strength of both of the 2007 Korea champions. Nagato Yuki was actually the one to defeat Fate Testarossa in a rematch like no other, eliminating the defending champion from contention and continuing on the path that she took last year to the final round. Sakagami Tomoyo has already made it past her previous best finish of 7th with a win over fellow upperclassmate Fujibayashi Kyou, but with such a scarce margin of victory and Yuki looking to take care of unfinished business, Tomoyo will have to bring her "A" game. Tonight's winner will face Shana on Friday, while tonight's loser will have to wait it out for next year. Which one will take a step closer toward destiny?

---

Madrid, Spain

Senō Natsuru vs. Sakurano Kurimu

709 → 1268
Today's match features two characters from series that are attracting attention for totally different reasons. Seitokai no Ichizon is gaining fame for its parodies of anime, doujinshi, eroge, and otaku culture in general. Kämpfer may have become the new standard for genderbending (though still with its own touches of parody and seiyuu jokes). The difference isn't just limited to the series: considering the girls, Kurimu's color is pink/red ("Aka-chan") while Natsuru is the lady in blue. Natsuru towers above most other girls and possesses tremendous physical abilities while Kurimu is very small for her age and known to be clumsy and fragile. These two contenders are appealing to diametrically opposite fetish groups, so we shall see whether Loli-Zion or Oneesama Federation is in control of ISML. Also, are the voters voting actually for the characters or for the content of their series? And do supporting males have a factor as well? Moe can be a confusing business, and this Red-vs.-Blue Match will show which girl can keep a clearer head and come out ahead.
Thanks to minhtam1638 and maglor for providing this round's match descriptions.
---
Elimination - Round 10
Star of Sirius - Convection Zone between the Core and the Surface

#3 Sakagami Tomoyo vs. #1 Shana

1157 → 1601




I can't leave this unattended... I have to finish...


Standing between this match and the tiara is Katsura Hinagiku, but only one will have the right to face her in the championship match. However, while Shana may have the #1 seed in this tourney, it might actually be Sakagami Tomoyo that may be favored in this match. Tomoyo has faced elimination four times this postseason, eliminating four opponents that have four necklaces between them, and the pressure that came with facing elimination is now almost nonexistent. In addition, she has never lost against Shana, one of the few candidates if not the only one to be able to do that in two or more attempts. However, while Shana may be facing a sudden elimination after a humbling loss in the winner's bracket final, she has quite a handful of intangibles on her side. For one, Tomoyo's close escapes in the later stages of the losers' bracket could indicate that she is finally wearing down. For another, Shana's latest OVA episode was released in the past week, which could help her get the necessary boost needed in order to beat Tomoyo for the first time. Both of them are looking forward to the final rematch with Hinagiku, but both have to get past the other first. Someone is leaving the tourney in an unsatisfactory third place. Can Tomoyo keep her chances of a first championship alive, or will Shana ensure that someone will be crowned a second championship next week?

---

Madrid, Spain

Kusakabe Misuzu vs. Ikaros

1199 ← 1184
Thanks to minhtam1638 for providing this round's match descriptions.
---
Elimination - Round 11
The Core - Center of the Star of Sirius

#11 Katsura Hinagiku vs. #1 Shana

2117 ← 2106




Are you sure you are looking at the right place?


This match is almost the championship match. Sure, the real championship match might take place on Thursday, and it will be held in the same location with the same two candidates in almost exactly the same setting as you see it today. But we say it's "almost" the championship match because only one - Katsura Hinagiku - needs to win today to finally clinch the 2009 ISML championship and the elusive tiara that goes along with it. The other - Shana - is only fighting for survival, and in order for her to earn the tiara, she will have to defeat Hinagiku twice in order to eliminate her from the competition. This is much easier said than done, as the winner of the revelation bracket usually has a 2:1 advantage over the winner of the elimination bracket, and a loss for Shana today means there won't even be a need for a Thursday match, as we have seen last year with Fate Testarossa over Nagato Yuki. Still, both of them have quite a history together, not to mention a rivalry that still is on the verge to be settled. The Hinagiku/Shana series is now the only series that has two championship matches on its record, and we know how nail-biting that first one was two years ago. If this series lives up to its hype, then either Hinagiku will clinch today or we will be seeing a rematch on Friday. Can Hinagiku become only the third to win two major Saimoe championships or will Shana stretch this out for at least three more days?

---

Madrid, Spain

Nogizaka Haruka vs. Yin

2766 ← 1328
Today we have two characters who have more secrets than you may guess at first glance. At one time, Nogizaka Haruka being referred to as an "Otaku's Wet Dream" had garnered much attention, but the inherent lightheartedness of the novel and anime did not make this nickname stick. Perhaps as a result, a fanatical fanbase never developed, which has not led to a strong history in past moe tournaments. Yin, however, has had benefit from Darker than Black's wide and fervent fan base, both male and female, so her tournament success has been better despite not showing much emotion. While Yin has little screentime in the latest series, she still draws attention through the sadness that she displays. Regardless of their saimoe history, these girls' widespread recognition can help propel them into a true contender status if they get an episode or two worth of serious attention. They also happen to be very different from each other, thus identifying the expected voter demographic should be easier than usual. Yin represents darkness and frugality stripped of emotion, while Haruka represents brightness and wealth, filled with feeling. Haruka can appeal to people in diverse ways, while Yin grasps viewers with her struggling developments. So what is the voters' choice: great abundance or thin slices of passion?
Thanks to minhtam1638 and maglor for providing this round's match descriptions.
---
Elimination - Round 12
New York, United States

Shiina Hikaru vs. Ōtani Yuri

511 → 608
Shiina Hikaru @ Figure 17 is the Group G Winner in Saimoe 2002. Ōtani Yuri @ Alien Nine is the Group M Winner in Saimoe 2002.
Buenos Aires, Argentina

Dejiko vs. Shia

739 ← 511
Dejiko @ Winter Garden participated in Round 2 of Group O in Saimoe 2002. Shia @ Pita Ten participated in Group I final in Saimoe 2002.
Cairo, Egypt

Anmoto Shiika vs. Nobuto Sana

918 ← 354
Anmoto Shiika @ Mushi-Uta participated in Round 1 of Group A in Saimoe 2008. Nobuto Sana @ Innocent Venus participated in the Preliminaries of Saimoe 2007.
Moscow, Russia

Hayama Kotono vs. Mishima Rinko

1083 ← 160
Hayame Kotono @ Saint October participated in Round 1 of Group D in Saimoe 2007. Mishima Rinko @ Yume Tsukai participated in Round 1 of Group C in Saimoe 2006.
London, United Kingdom

Kojima Yuki vs. Taruto

419 → 739
Kojima Yuki @ Whistle! did not appear in any previous tournament. Taruto @ Magical Nyan Nyan Taruto participated in Round 3 of Group A in Saimoe 2002.
Sydney, Australia

Kitazawa Tomoko vs. Fujiwara Shizune

347 → 865
Kitazawa Tomoko @ Ai Shimai and Fujiwara Shizune @ Houkago: Nureta Seifuku have not appeared in previous tournaments.
Thanks to KholdStare for organizing this information.
---