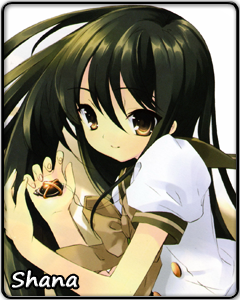 Biography - Cytrus, Psieye


Name:
Shana 「シャナ」

Title Series:
Shakugan no Shana
Voiced by:
Kugimiya Rie

Career ISML Performance
2008: 6th Place. Record: (59-0-0-4) / (2-2)
2008: Aquamarine Necklace Winner
2009: 2nd Place. Record: (62-0-0-1) / (4-2)
2009: Sapphire Necklace Winner
2010: 3rd Place. Record: (48-0-1) / (4-2)
2010: Sapphire Necklace Winner
2010: Emerald Necklace Winner
2010: Diamond Necklace Winner
2011: 2nd Place. Record: (45-0-4) / (3-1)
2011: Ruby Necklace Winner
2012: 2nd Place Stella Division. Record: (33-0-2)
2012: 10th Place League Finals
2013: 7th Place Stella Division. Record: (28-0-7)

Moe Tournament Résumé
3rd Place - Japan Saimoe 2006
4th Place - Korea Best Moe 2006
Group Finalist - Japan Saimoe 2007
2nd Place - Korea Best Moe 2007
1st Place - Korea Super Best Moe 2006-2007
Group Finalist - Japan Saimoe 2008
3rd Place - Korea Best Moe 2008
5th Place - Japan Saimoe 2010
Round 1 - Japan Saimoe 2011
Top 96 - Korea Best Moe 2011
25th Place - Korea Best Moe 2012

Many spend their lives looking for a raison d'être, a purpose to their existence. But the girl known as the Slayer with Flaming Hair and Blaze-Red Eyes understood her purpose all along: to protect the balance of this world and cut down anything threatening it. To achieve this, Shana was ready to throw away everything unnecessary, including her own feelings and dreams.

Indeed, she grew stronger. The tales of her power struck fear in the hearts of her enemies. But little did she know that the last enemy awaiting her at the end of her journey would be herself. Sweet food brings a smile to her face, the desire for family warmth hunts her on lonely nights, and an encounter with an extraordinary boy makes her heart beat just a bit faster... Shana believes all of those emotions can only dull her blade. But no matter how many times she tries to cut through them, they only return with more force. If she truly desires to find strength, Shana must learn how to see through her own self-deception and accept herself for who she really is.

On a different note, Shana's devotion to the path of the warrior means she had little opportunity to try her hand at many much more mundane activities of contemporary life. Her disastrous confrontations with school, modern kitchen appliances and lunchboxes are a sight to behold.


Past Notable Matches

Japan Saimoe 2006: (3rd Place)
Group Finals: 961-832 over Arurū (Utawarerumono)
Quarterfinals: 1210-1059 over Sawachika Eri (School Rumble)
Semifinals: 1431-1473 to Suiseiseki (Rozen Maiden)

Korea Best Moe 2006: (4th Place)
Round of 16: 639-326 over Yuzuhara Konomi (ToHeart 2)
Quarterfinals: 572-446 over Teletha Testarossa (Full Metal Panic!)
Semifinals: 411-598 to Suiseiseki (Rozen Maiden)

Japan Saimoe 2007: (Group Finalist)
Group Finals: 1068-1086 to Sanzen'in Nagi (Hayate no Gotoku!)

Korea Best Moe 2007: (2nd Place)
Round of 16: 1145-1128 over Maria (Hayate no Gotoku!)
Quarterfinals: 1545-1048 over Minase Nayuki (Kanon)
Semifinals: 1665-1348 over Suiseiseki (Rozen Maiden)
Finals: 2013-2015 to Katsura Hinagiku (Hayate no Gotoku!)

Korea Super Best 06-07: (1st Place)
Quarterfinals: 1304-1230 over Katsura Hinagiku (Hayate no Gotoku!)
Finals: 1185-1168 over Suzumiya Haruhi (Suzumiya Haruhi no Yūutsu)

Japan Saimoe 2008: (Group Finalist)
Group Finals: 898-1058 to Kawazoe Tamaki (Bamboo Blade)

Korea Best Moe 2008: (3rd Place)
Round of 16: 4103-4085 over Kagura (Gintama)
Quarterfinals: 3715-3382 over Sanzen'in Nagi (Hayate no Gotoku!)
Semifinals: 4147-4507 to Holo (Ōkami to Kōshinryō)

Japan Saimoe 2010: (5th Place)
Group Finals: 816-719-109 over Takamachi Nanoha (Mahō Shōjo Lyrical Nanoha) & Saginomiya Isumi (Hayate no Gotoku!)
Quarterfinals: 890-946 to Haramura Nodoka (Saki)

Korea Best Moe 2012: (25th Place)
Round of 32: 89-144 to Senjōgahara Hitagi (Bakemonogatari)


ISML 2008 Regular Season: (4th Seed)
Topaz 3: 254-263 to Sakagami Tomoyo (Clannad)
Amethyst 2: 239-246 to Hiiragi Kagami (Lucky☆Star)
Diamond 2: 546-565 to Fate Testarossa (Mahō Shōjo Lyrical Nanoha)

ISML 2008 Championship: (6th Place)
Preliminary Round: 722-535 over Suigintō (Rozen Maiden)
Winner Round 1: 614-562 over Fujibayashi Kyō (CLANNAD)
Winner Round 2: 734-803 to Fate Testarossa (Mahō Shōjo Lyrical Nanoha)
Loser Round of 6: 615-656 to Izumi Konata (Lucky☆Star)

ISML 2009 Championship: (2nd Place)
Preliminary Round: 1981-1932 over Holo (Ōkami to Kōshinryō)
Winner Round 1: 1524-1108 over Tōsaka Rin (Fate/stay night)
Winner Round 2: 1549-1386 over Fujibayashi Kyō (CLANNAD)
Winner Round 3: 1395-1677 to Katsura Hinagiku (Hayate no Gotoku!)
Loser Round 6: 1601-1157 over Sakagami Tomoyo (CLANNAD)
Championship Round: 2106-2117 to Katsura Hinagiku (Hayate no Gotoku!)

ISML 2010 Regular Season: (1st Seed)
Amethyst 7: 3021-3179 to Akiyama Mio (K-ON!)
Ruby 7: 2928-2633 over Katsura Hinagiku (Hayate no Gotoku!)

ISML 2010 Championship: (3rd Place)
Preliminary Round: 4221-3047 over Senjōgahara Hitagi (Bakemonogatari)
Winner Round 1: 3406-2835 over Suzumiya Haruhi (Suzumiya Haruhi no Yūutsu)
Winner Round 2: 3279-3434 to Misaka Mikoto (Toaru Majutsu no Index)
Loser Round 4: 3806-3659 over Katsura Hinagiku (Hayate no Gotoku!)
Loser Round 5: 4017-3961 over Nakano Azusa (K-ON!)
Loser Round 6: 3478-3522 to Misaka Mikoto (Toaru Majutsu no Index)

ISML 2011 Regular Season: (5th Seed)
Ruby 6: 3253-3256 to Nagato Yuki (Suzumiya Haruhi no Yūutsu)

ISML 2011 Championship: (2nd Place)
Round of 16: 5418-3630 over Yui (Angel Beats!)
Quarterfinals: 5508-5107 over Nakano Azusa (K-ON!)
Semifinals: 7624-6929 over Tachibana Kanade (Angel Beats!)
Final: 8052-9208 to Misaka Mikoto (Toaru Majutsu no Index)

ISML 2013 Regular Season: (7th Seed)
Amethyst 5: 4305-4141 over Aragaki Ayase (Ore no Imōto)
Topaz 6: 4235-4189 over Yui-nyan (Angel Beats!)


Regular Season Schedule

| | | | | | | |
| --- | --- | --- | --- | --- | --- | --- |
| Aquamarine | Topaz | Amethyst | Sapphire | Emerald | Ruby | Diamond |