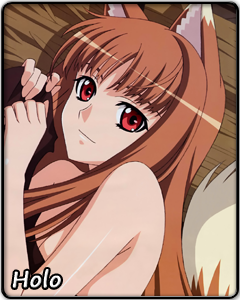 Biography - Cytrus, Psieye


Name:
Holo 「ホロ」 (Horo)

Title Series:
Ōkami to Kōshinryō (Spice and Wolf)
Voiced by:
Koshimizu Ami

Career ISML Performance
2008: 19th Place. Record: (43-0-1-19)
2009: 13th Place. Record: (47-0-0-16) / (0-2)
2010: 21st Place. Record: (30-0-19)
2011: 34th Place. Record: (17-0-32)
2012: 32nd Place Stella Division. Record: (3-0-32)
2013: 34th Place Stella Division. Record: (3-0-32)
2016:

Moe Tournament Résumé
2008: Anime Saimoe Tournament - Round of 96
2008: Animefans Saimoe Tournament - Round of 16
2008: Korean Best Moe - 1st Place
2008: Korean Super Best Moe - Round of 160
2009: Anime Saimoe Tournament - Round of 96
2009: Animefans Saimoe Tournament - Round of 32
2009: Korean Best Moe - 7th Place
2010: Anime Saimoe Tournament - Round of 288
2010: Animefans Saimoe Tournament - Round of 32
2010: Korean Best Moe - 14th Place
2010: Korean Super Best Moe - Round of 64
2011: Baidu Harem Moe - Round of 64
2014: Best Girl Contest – 2nd Place
2015: AnimeGirl Saimoe Tournament - Round of 32
2015: Best Girl Contest - Round of 16
2016: Best Girl Contest - Semifinalist

Amidst the swaying sea of golden wheat, a feminine form of unearthly beauty can be seen. She is watching, her deep eyes pinning you down, even from a distance.

A shrewd and ancient wolf deity, Holo is a step above the ordinary mortals who inhabit her land. But, it was one of those simple people who moved her heart enough for her to settle down and take on the responsibility of a village's harvest god.

That is no longer anything more than a tale of the past, though. With time, people have outgrown the need for guardian deities. As a single faith takes over the lands by force, old gods like Holo are regarded only with suspicion and disdain. The wolf goddess understands that the hundreds of years of effort she put into protecting the humans have been forgotten, and she is no longer viewed as necessary.

With a heavy heart, Holo comes to terms with this lack of gratitude and prepares to set out on a journey to her roots. Loneliness likes company, though, and so she finds herself a traveling merchant to pester on the way.

She calls herself 'Holo the Wise' and is quick to prove her worth during their travels. Her years of experience have taught her an unlimited number of tricks, and she has no hesitation in using her resourcefulness to relieve the competition of their gold. She has expensive tastes, however, and a weakness for good food, particularly fresh apples.

Mature and a savant at times, Holo can change into a childish prankster in the blink of an eye. She needs the comfort of another by her side, but you never know when she's just fooling around. Well, nobody said taming this particular wolf would be easy.


Past Notable Matches

ISML 2008 Regular Season: (19th Place)
Topaz 3: 247-247 to Hiiragi Tsukasa (Lucky☆Star), OT loss
Amethyst 1: 176-180 to Tsukimiya Ayu (Kanon)
Ruby 7: 313-320 to Suigintō (Rozen Maiden)

ISML 2009 Regular Season: (16th Seed)
Aquamarine 4: 1014-1017 to Furude Hanyū (Higurashi no Naku Koro ni)
Amethyst 3: 1479-1497 to Nagato Yuki (Suzumiya Haruhi no Yūtsu)

ISML 2009 Championship: (13th Place)
Preliminary Round: 1932-1981 to Shana (Shakugan no Shana)
Loser Round 1: 1317-1659 to Hiiragi Kagami (Lucky☆Star)

ISML 2010 Regular Season: (21st Place)
Amethyst 1: 2573-2528 over Furukawa Nagisa (Clannad)
Ruby 2: 1996-1971 over Izumi Konata (Lucky☆Star)

ISML 2013 Regular Season: 34th Place
Topaz 1: 6384-6575 to Izumi Konata (Lucky ☆ Star)


Korea Best Moe 2008: (1st Place)
Round of 16: 4800-3620 over Shirley Fenette (Code Geass)
Quarterfinals: 3917-3447 over Furude Rika (Higurashi no Naku Koro ni)
Semifinals: 4507-4147 over Shana (Shakugan no Shana)
Finals: 6534-6503 over Fujibayashi Kyō (Clannad)

Korea Best Moe 2009: (7th Place)
Round of 16: 1265-1254 over Sonozaki Mion (Higurashi no Naku Koro ni)
Quarterfinals: 1314-1567 to Okazaki Ushio (CLANNAD)

Korea Best Moe 2010: (14th Place)
Round of 16: 763-1072 to Misaka Mikoto (Toaru Majutsu no Index)


Regular Season Schedule

| | | | | | | |
| --- | --- | --- | --- | --- | --- | --- |
| Aquamarine | Topaz | Amethyst | Sapphire | Emerald | Ruby | Diamond |